Review of The Simpsons Season 6 DVD
I got The Simpsons Season 6 DVD on Wednesday, and I just finished watching it today.
Letter-grade review for all the episodes of season 6:
Bart Of Darkness - A-
Lisa's Rival - B+
Another Simpsons Clip Show - C-
Itchy & Scratchy Land - B+
Sideshow Bob Roberts - A+
Treehouse Of Horror V - A+
Bart's Girlfriend - A
Lisa On Ice - A
Homer Bad Man - A+
Grampa vs. Sexual Inadequacy - A
Fear Of Flying - B+
Homer The Great - A+
And Maggie Makes Three - A
Bart's Comet - A
Homie The Clown - A+
Bart vs. Australia - A-
Homer vs. Patty And Selma - A
A Star Is Burns - A+
Lisa's Wedding - A
Two Dozen And One Greyhounds - A
The PTA Disbands - A-
'Round Springfield - A+
The Springfield Connection - A
Lemon Of Troy - A
Who Shot Mr. Burns? (Part One) - A+

There are quite a few more deleted scenes on this set than there were on the season 5 one, the deleted scenes are very good. The commentaries are great, as they always are. The "Springfield's Most Wanted" featuture is a lot better than I expected it would be. I'm disappointed that there are less animation showcases on this set than there were on seasons three and five. The other special features on the DVD are also good. The Homer's head packaging is quite a bit worse than I expected it to be. I ordered the alternate packaging (from SimpsonsBox.com). Season 6 is my second favorite season of The Simpsons. I give this DVD set an A+.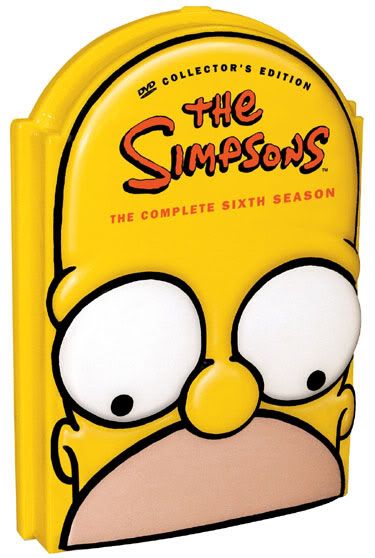 I will post a picture of the alternate packaging whenever a picture of it is released.